Exfoliation Vs. Peeling [Differences] Which one is Best for Glowing Skin?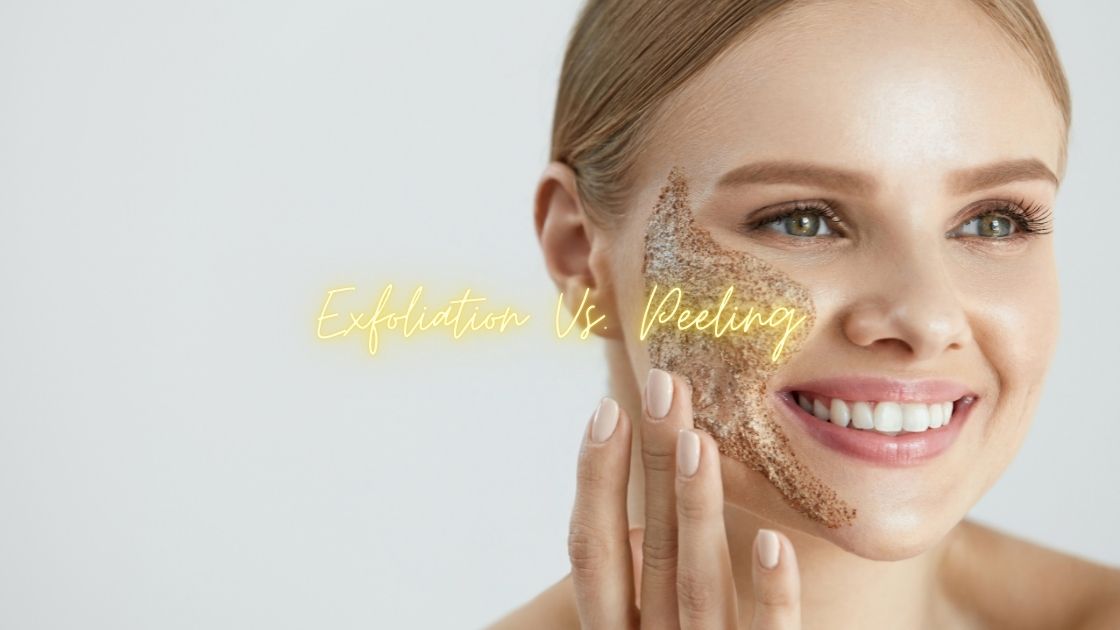 We all know that exfoliation is the best way to revive skin. It oxygenates the skin, softens the texture, and stimulates regeneration of the cells. Peeling and exfoliating are both practised to remove the dead cells.
Understanding your skin is not a rocket science!
However, it may be something close to it for a lot of people who are just beginning to touch base on skin care. The confusion is overwhelming, and a simple answer won't justify your query without knowing more about peeling and exfoliation.
Exfoliants are used to remove the dead skins and improve complexion of the skin. While peeling uses acids to remove the bonds that hold dead skin cells to your skin. Scrubs exfoliate the skin mechanically; while peels utilise chemicals that go deeper into the skin.
To better understand about the differences between the two let us first understand EXFOLIATION!
Understanding Exfoliation
The continual restorative process of your skin, where it refreshes itself over a specific time, requires attention. The newly formed skin cells push the dead skin cells to the outer layers of the skin. These dead skin cells gather and eventually peel off, but there are occasions when they refuse to leave, making your skin dull and rough.

This is when you need exfoliation! It helps in the shedding of dead skin layers that serve no benefit to your skin. Additionally, it prepares your skin for effective treatments and better skincare product absorption.
Types of Exfoliations
Physical Exfoliation: This approach utilises manual skin rubbing by using small grains, a towel, a scalpel, brushes, sponges, gloves, and scrubs.
Chemical Exfoliation: Chemical exfoliants are based on acids that remove dead skin cells from the skin. They are available in a variety of concentrations and are also used by dermatologists for skin treatments.
In short, scrubs exfoliate the skin mechanically while peels do the same job chemically. Some of the benefits that comes with using a scrub are;
it removes blackheads
reactivates microcirculation in your skin
Meanwhile, some of the benefits that peels have over scrub exfoliants are;
unclogging pores
smoothening and softening skin
So, what's the difference?
Face exfoliants remove the dead skins to improve the appearance of skin. Meanwhile, peels are simply another form of exfoliation which involves the use of acids to break down the dead skin hanging onto your skin.
Here are some of the questions that we often get asked by our customers.
Is chemical peel better than exfoliating?
Depending on skin type it may be different. The effectiveness of a chemical peel is understood to be greater than threpat of a scrub, and it penetrates considerably deeper into the skin.
They are especially beneficial for people who suffer from skin conditions such as severe acne, uneven textured skin tone, hyperpigmentation, and ageing skin, and some others.
Is peeling mask an exfoliator?
Peel-off masks are a sort of physical exfoliator, which means they remove the top layer of skin to slough away dead skin cells and reveal new skin beneath. Skin is left feeling smooth and glowing because of this.
Does exfoliation peel skin?
FALSE! However, over-exfoliating can cause peeling skin. It is highly recommended to read and follow the directions. Because your glowing skin is precious. ❤️
Final tip: maintain healthy moisture levels in your skin with Jericho Foaming Facial Scrub, click here to check it out.